Its been a long time coming, but Gemma's closet door is finally done! I shared back a few month's ago plans for Gemma's room and a sneak peek of her beautiful wallpaper that we hung. Believe it or not, we are still not finished, but we are getting closer to the full reveal. Today I have something special to share though, her murphy door closet. Are you wondering what a murphy door is???? I am sure you have heard of murphy beds…but what's a murphy door?
This post is in collaboration with Murphy Door all opinions expressed are 100% my own. This post also contains affiliate links that I make a small commssion from with no added cost to your purchase.
Kind of makes me think of Scooby Doo, you know when Scooby and the gang would be hunting for ghosts and then magically him and Shaggy would find some hidden door that would lead to the bad guy! Well, instead of some haunted mansion, we were able to create our own secret closet door in Gemma's space with the help of Murphy Door. An American made company that specializes in crafting beautiful hidden doors. Each door looks like a bookcase or cabinet from the front but has a revolving hinge that allows you to either push or pull your door.
Since Gemma's door jam was hung the wrong way we had to replace the door and we initially solved the issue with her previous room makeover by hanging a barn door. Well, barn doors have come and gone in design and I also felt it just was too harsh in her space. Now that we had the feminine English cottage wallpaper she needed something a little softer to resolve the issue.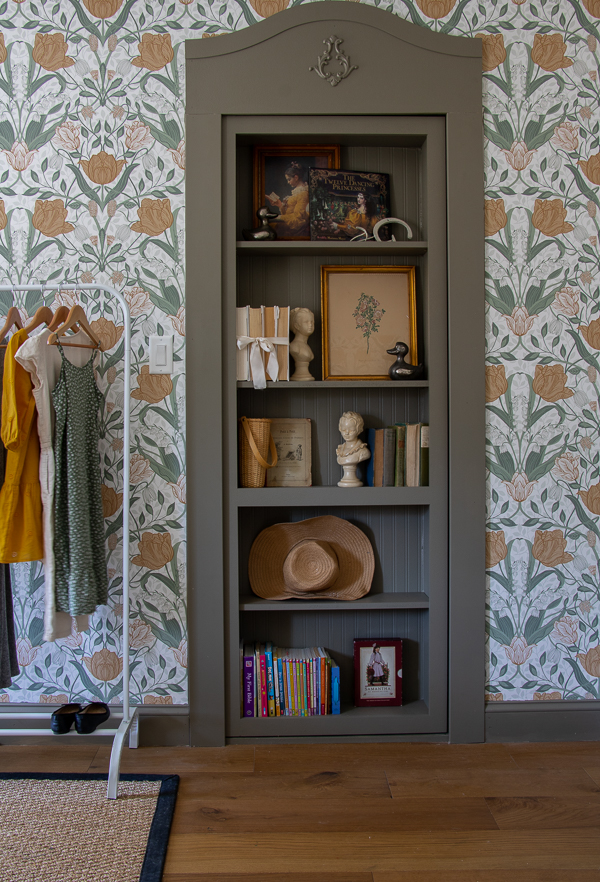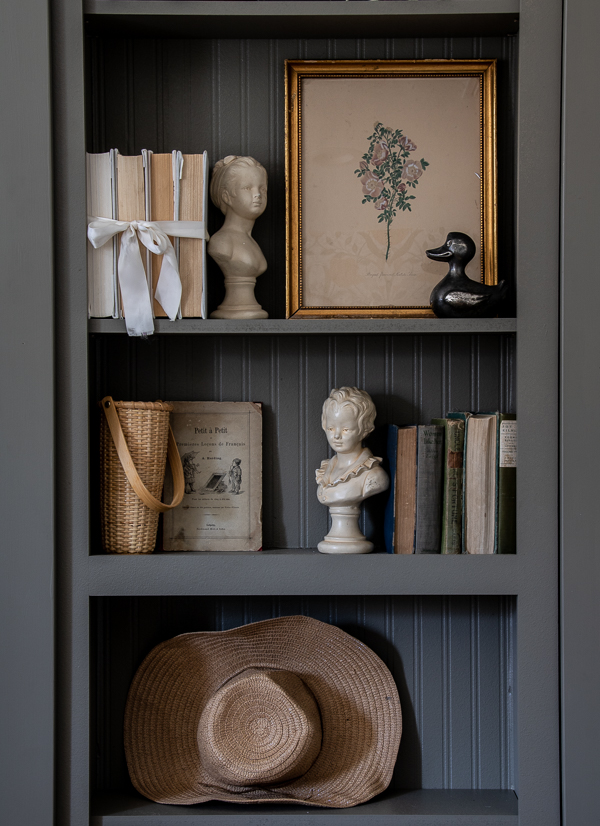 We ordered our door to it's specific measurements and chose to do an outswing so she could still use the space in her closet. The door took about two months to arrive after being carefully crafted and shipped to our home here in NJ. It was like Christmas morning when the package arrived. After unwrapping out of the box we just had a few more steps left until it was ready to be hung in place.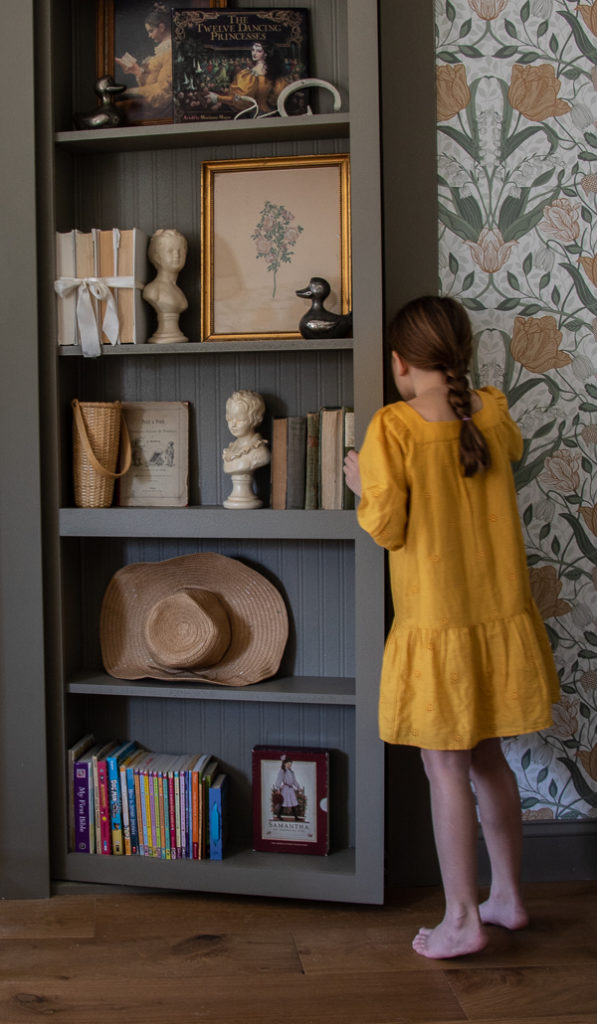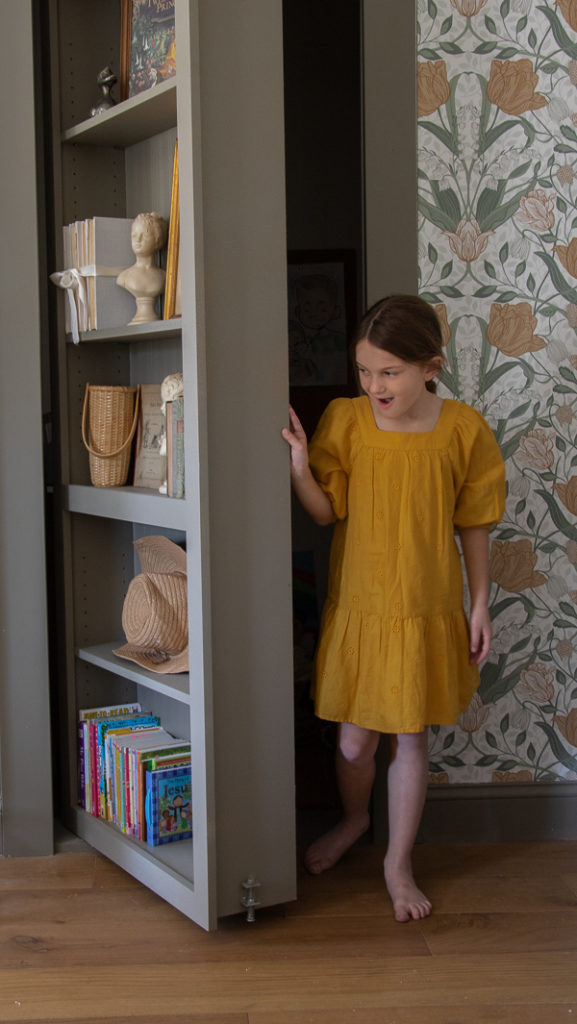 I decided to order the "unfished" bookcase since I knew I wanted to match the color to Gemma's trim. We used Copley Gray by Benjamin Moore in the satin finish and I chose to spray the paint on the bookcase rather then rolling. Before painting though I knew I needed just a little bit more texture and so I ordered some beadboard wallpaper and pasted it onto the back of the bookcase. It was pretty simple, but I did battle a really windy day which made things a bit difficult.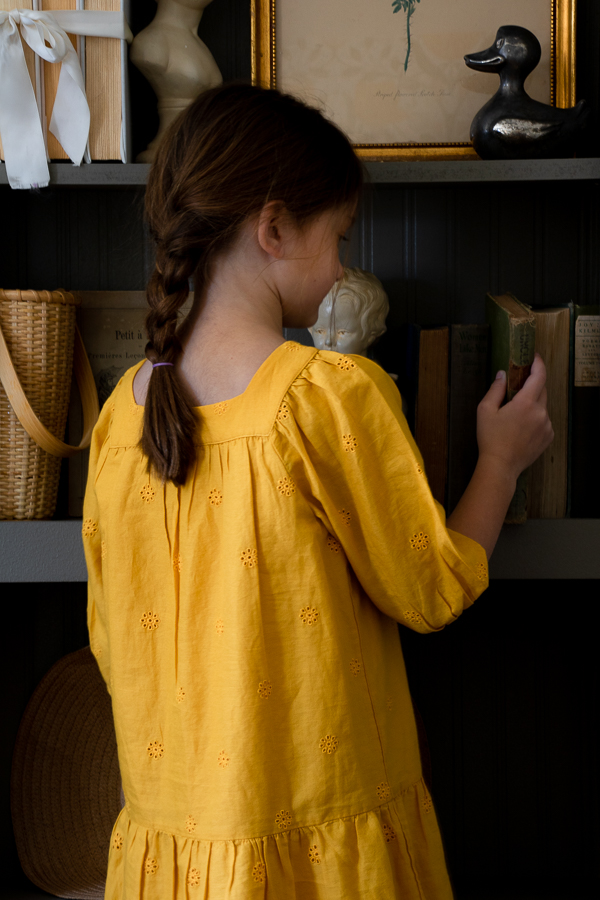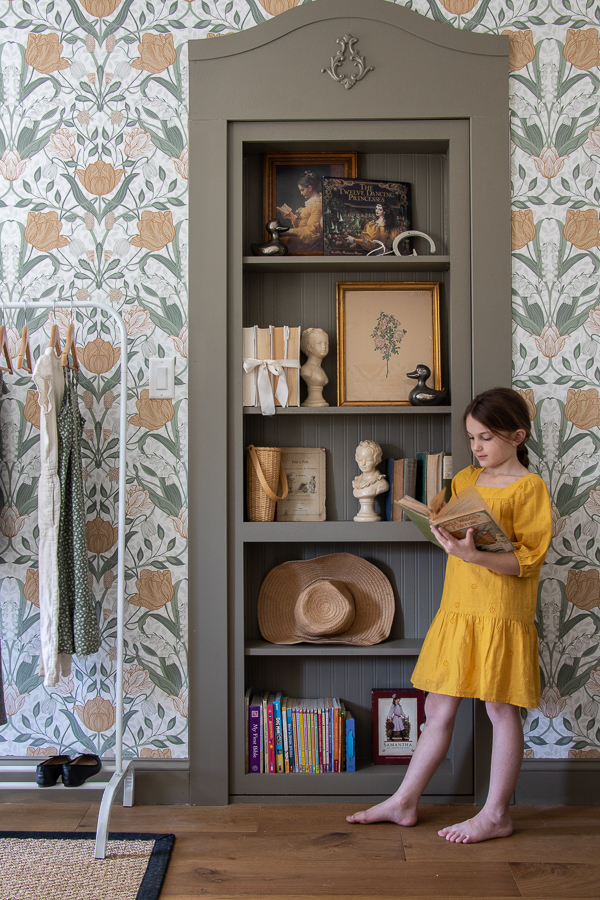 Once the wallpaper was hung and the paint went on, then it was time to hang! Hubby took it from here and we thought this might be a little difficult to our level of DIY. Doors are some of the hardest projects to tackle. It has to be just right and shimming to make sure everything is level and even. Well, I would say about 30 mins into shimming and getting the jam in… we were done! Both pleasantly shocked! Could be that our house is still "newer" so things have not settled too much, but whatever the case we were grateful we did not need to call in the professional for this one.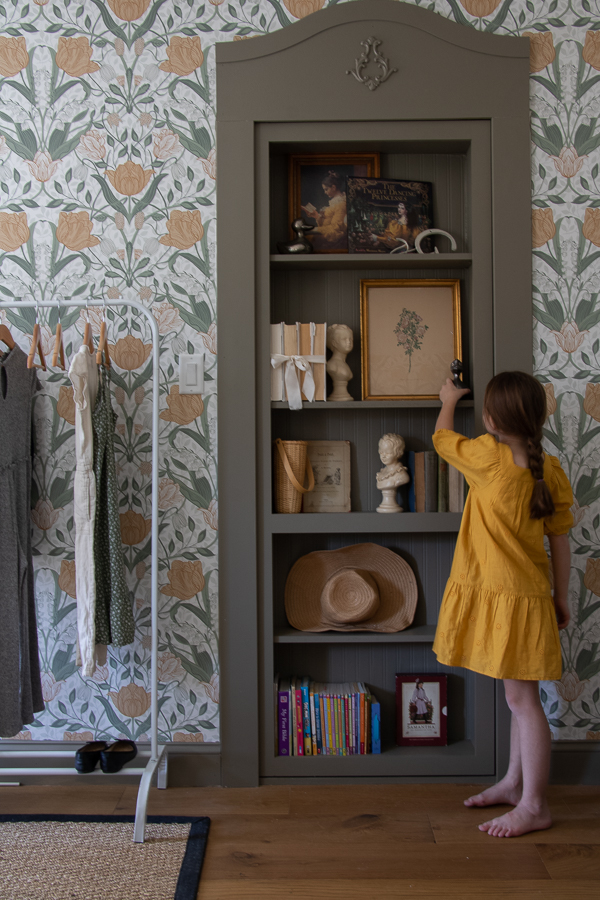 So here's when it got fun… I had sketched out back in November a photo of how I wanted to create the bookcase door. Before then I did not even know about Murphy door and we somewhat considered making one ourselves (GLAD WE DIDN"T). In my sketch I had decided I wanted to use the base of Gemma's old bed to finish the top. We loved the details of that bed and it fit perfectly to the size over her door. So, we sprayed that as well to match the trim and bookcase, and all we needed was just bigger molding since we had to cover the spots where there was no wallpaper (4″ wide molding). A few nails later…and the prettiest little bookcase was installed!
Gemma couldn't wait to share with her friends her "secret door" makes me totally want to transition her closet into a garden so it could be the secret garden doorway to have tea with friends and her American girl dolls. We will see… but we are so thrilled with how it turned out and grateful for the partnership with Murphy Door and to bring more attention to this wonderful family owned American made business!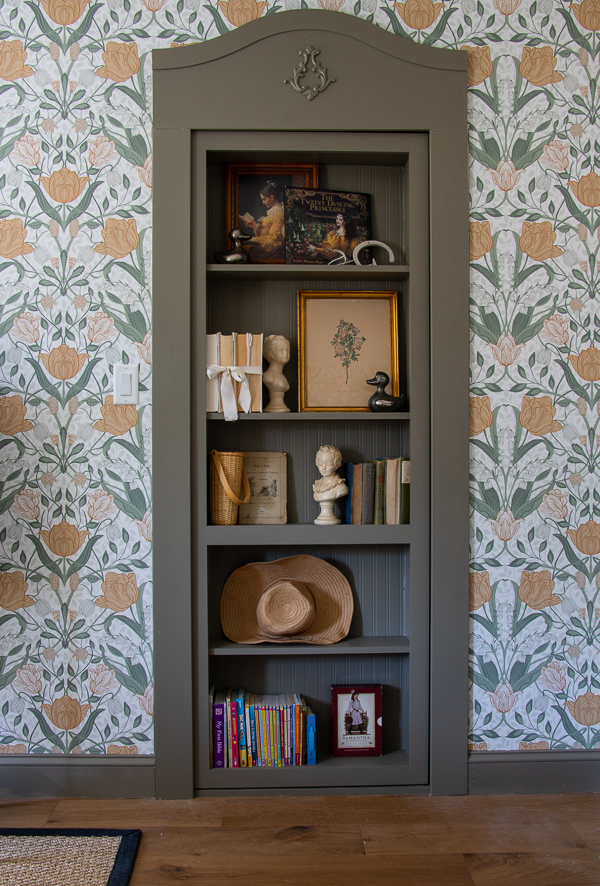 Hope this inspires you all for your next project! P.S. the full reveal will be done soon….just searching Facebook marketplace everyday for the perfect vintage dresser to complete the space.