Creating a billiard room in your home is a great way to have fun with your family, unwind after a stressful day, and entertain guests on the weekends. When it comes to designing a game room that meets your home's unique needs, there are several things to consider. After all, a pool table can take up a good amount of space. Check out these tips from the experts at Murphy Door to determine how much space is needed for a pool table in your home.
Measurements Recommendations
Before investing in a pool table for your game room, it's important to consider the size of the room you plan to add it to. The last thing you want to do is bring home a gorgeous pool table only to realize that it's too big for your game room. With this in mind, measure both the space and the table itself; this is critical for determining how much space is needed for a pool table.
The standard pool table size that can be found in most bars and homes is 8' by 4' and the standard pool cue is 58". Fortunately, pool tables and cues come in an array of sizes; so you can choose the right fit depending on the size of the room you're planning to add it to. Here are the recommendations based on pool table size and minimum room dimensions: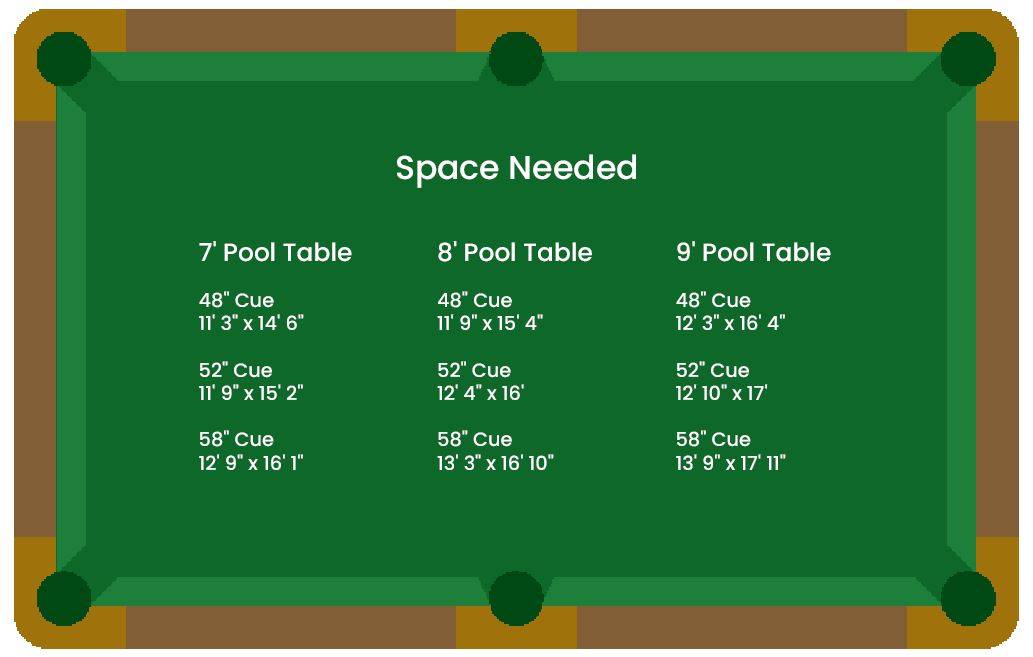 Even if your game room has the recommended pool table space needed, it's important to keep in mind what other furnishings and decor you may be adding. To help you visualize exactly how much room you'll have to move around your game room and pool table, it can be helpful to mark the ground where the pool table will be.
It's no secret that there are a lot of movements that happen during an ordinary game of pool.
Don't stop at thinking about how much space is needed for a pool table. Be sure to leave an adequate amount of space between your pool table and the walls of the room.

If you want standard 58' pool cues, have at least 4.5 feet around all sides of your pool table. If space in your billiard room is tight, you could opt for 52' pool cues instead.

If you intend to

hang a light fixture

over your pool table, the distance between the fixture and table matters. It's recommended that lighting should be between 62 and 66 inches from the floor to the light fixture and between 32 and 36 inches from the fixture to the top of the pool table.
Complete Your Billiard Room With Murphy Door
When the time comes to design your ultimate billiard room, the overall style of the space should be just as important as how much pool table space is needed. One way to effortlessly enhance the practicality and appearance of the room is to include a Pool Cue Door from Murphy Door. It instantly provides space to store up to 15 pool cues and 16 pool balls while concealing storage behind. Visit us online today!